Whew!!!
So, you want a sneak peak into the life of the Zookeeper, you say....well, here's this morning's activities.....
We read the book The Rainbow Fish.....so here's our craft time....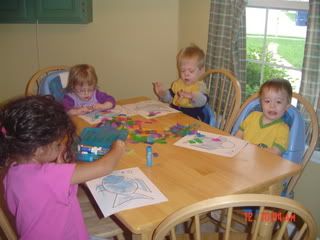 And the finished product....
Not too shabby, though very busy!
Next for lunch is French Toast, sausage patties, mandarin organes, and grapes (cut in half, of course...lol)....
What was I thinking?? ROFL Actually, fights have been to a minimum today...which is good. Reports later will indicate whether or not I actually get a bit of a naptime break today....