A Pretty Good Weekend....
Yesterday we had the March of Dimes WalkAmerica in downtown Indy. It was a bunch of fun, but it definitely wore our asses out! hehe Here are some pics of the festivities....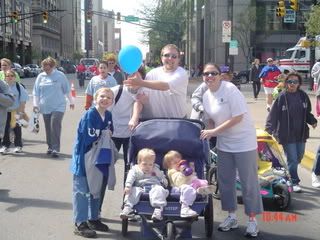 My mother-in-law and sister-in-law went with us. The babies did a wonderful job of being good while on the walk. And I think that their Grandma Byers couldn't have been more proud of them! :)
Next year, I want them to have a Preemie Lap around the track for all those who've been born prematurely. I am going to suggest it! ;)
Today's been a day that will drive me to lunacy. I had some extras today, which brough the numbers above 10....13 kids in all today! ACK! At least Aaron is here to help out. And he's been good about it....and understanding, because my mood has been horrid.
Tonight will be another one of those nights where I hit the hay before nine.... *sigh*