A Recent Scrapbook Page....
I've not shared anything as of late...mostly because I hadn't done much as of late. I've started the twins' albums....I'm still working on all the fluffy-type pages before I get to the emotionally-laden NICU pages.....I've written out the twins' birth story, but just need to figure out how exactly I'm going to do the page.
Anyway, without further ado, here's my latest page....I used MM Simply stated rub-ons for the title, ProvoCraft's Slab IV paper, MM brads, and the good ol' Dymo label maker...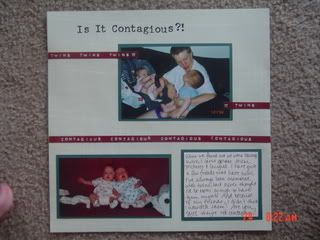 Journaling: When we found out we were having twins, I came across these pcitures and laughed. I have quite a few friends that have twins. I've always been enamored with twins, but never thought I'd be exotic to have them myself. And because of these friends, I didn't think I wanted them! Are you SURE they're not contagious?!"